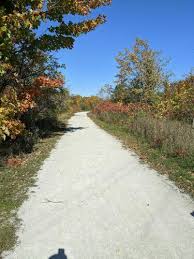 After parking at one of the designated parking areas listed in the parking tab, start your journey at the Huron Bruce road. Head towards Mildmay on a piece of history. The great Bruce County Rail Trail. Side by sides are permitted up to 72" on the Bruce County Rail Trail, and of course ATVs.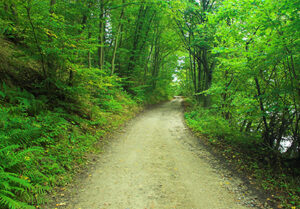 Along the Bruce County Rail Trail, you will find many agricultural properties and scenic views on your way to Mildmay. At Adam street in Mildmay, stop by the Mildmay Mill pond and take in the scenery and witness first hand the wildlife that this region has to offer. Check out some of the great eateries while in Mildmay and the shops along main street. These are included but certainly not limited to:
Harley's Pub
Sandys Restaurant
Mildmay Cheese Haus
Shell Gas Station
And many more
Once departing from Mildmay, headed north, on your way to Walkerton, you will find many great views along highway 9 and beyond. Businesses and agriculture alike along the rail trail, sharing the general landscape.
Once entering Walkerton, you will notice signs with a black train on them pointing "Bruce County Rail Trail This Way" follow the streets through town. You will pass by the Walkerton recycling depot. Make a slight left onto the gravel road and continue to follow the trail markers, and you will find the rail trail again. You can use the side streets in Walkerton to get to the various eateries, gas stations, shops, etc. This portion of the trail through Walkerton has a stone dust finish which makes the trail quite smooth for bikers, walkers etc. This allows many user group types to utilize the Bruce County Rail Trail.
As we continue on to Paisley, the rail trail has been recently re-surfaced and widened here as this was a problem area for wash-boarding. Projects and repairs such as this are completed using funds generated from trail pass sales. In partnership with Bruce County, there is a 5 year resurfacing plan in place to eventually have the entire Bruce County Rail Trail Re-surfaced. Paisley's two train trestle bridges have some of the best views along the Bruce County Rail Trail. We expect the bridge to be in operation for the 2023 season. For now, please adhere to the detour signs kindly set up by the county. The bridge over the Teeswater river currently still stands. Be sure to support local businesses in Paisley as they count on the spinoff tourism dollars the Bruce County Rail Trail brings in for their community. Shops and eateries in Paisley are always happy to see the ATV crowd. Lets show them our appreciation!
Now we continue back onto the trail between Paisley and Port Elgin, you will notice the trail has been resurfaced from the Bruce Saugeen townline to Bruce rd 40. There is a small section from Bruce rd 40 to sdrd 13/14 remaining to be resurfaced. The county has this on their radar for resurfacing efforts in 2023.
As riders approach Port Elgin, its important to understand the limitation of Port Elgin to ATVs. At the Sideroad 13/14 road crossing you will notice ATVs are not permitted within town limits on the Bruce County Rail Trail. Its important to take necessary, marked out road detours to keep our multi-user facets of the trail intact. Please respect the town of Port Elgin and utilize concession 6 to get to the main parking lot in Port Elgin.(marked out on our trail map). Once at the main parking lot in Port Elgin, you will likely want to stop of food or fuel. To do this, you will need to look across the road from the parking lot. You will see a trail that runs along the west side of the Bruce County Rail Trail. This path allows users to get into Port Elgin without having to use Hwy 21. This trail will put you behind Walmart, where you can easily get to Tim Hortons, or the Canadian Tire Gas Bar with little traffic disruption in the town of Port Elgin. ATVs are not permitted on Hwy 21, so please use back streets to get around in Port Elgin to your destination. Please be respectful and obey all speed limits and signage when using back streets in Port Elgin (20km/hr maximum on in town streets).
As you leave the Concession 6 Parking lot in Port Elgin heading south, you will notice there is a sign stating that ATVs are to use the shoulders/ditches along the trail. Please do this as you are still in the town limits of Port Elgin and will encounter many users other than ATVs on this portion of trail. You will notice the trail will be split for approximately 3 concessions. Please obey all signage. Please follow these signs so all users receive the privilege of using the Bruce County Rail Trail.
For those looking for mud, you will find it here. There are many wet areas and water holes along the Bruce County Rail Trail between Port Elgin to Baie Du Dore. Don't forget to bring a buddy and a winch is essential when using the muddy trails! Once you have reached the end of the line at the south end of the rail trail, turn right and head to the next T intersection, make a left and park next to the "No ATVs allowed on the beach" sign. From there you can walk down to the beach of Baie Du Dore and take in some lovely views of Lake Huron. You will also see the Bruce Nuclear Power Plant "Bruce A".
This is our Bruce County Rail Trail in partnership with Bruce County. We are proud to claim this trail as ours and this creates a new way to travel across the region. We thank everyone over the years for making this possible and who continue to make trails like these possible.
HSATV is always looking for volunteers. If you think something like this interests you, and you want to help our community build and maintain your locals trails, please reach out via our Contact Us page.